Before purchasing a server cabinet or server rack it is import ant to understand the difference between the different products that are available. This will ensure that you purchase exactly what you need.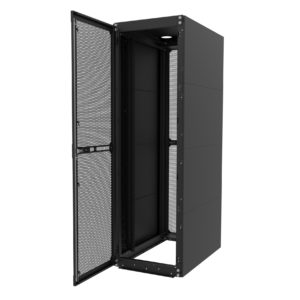 Server Cabinets
Server Rack Cabinets such as the 42u Server Cabinet are generally nineteen inches wide by industry standards. This products is mostly used to install servers, UPS ES, monitors or similar equipment. Server rack cabinets, for the most part, are twenty four inches in width, and thirty six inches deep. Some companies offer other measurement options to meet customers' needs, however. Server rack cabinets usually have a perforated front and rear. This feature offers ventilation for the equipment being housed. This is crucial to providing a safe environment for this type of equipment which generates a good deal of heat.
Network Cabinets
Network cabinets or Network Racks are often confused for server cabinets. However, there is a difference. Network cabinets are generally used for the storage of routers, patch panels, switches and a wide variety of networking equipment as well as networking accessories. In most cases a network cabinet will be far shallower than a server rack cabinet, generally measuring in at less than thirty one inches deep. Networking cabinets will sometimes have glass or a strong plastic front door. Network cabinets also generally do not have perforated enclosures. The type of equipment generally housed in network cabinets does not generate the same amount of heat as that housed inside a server rack.
Because one product can not fulfill the needs of all office equipment storage, it may become necessary to do a thorough evaluation of the type of equipment being used, or that will be used, in order to make the most informed purchasing decision. In many cases, office spaces will require the use of both a server rack and a networking cabinet in order to house the various equipment that will be used there.
It is important to note, that improperly housing heat generating equipment is dangerous. This could cause damage to your equipment, or worse could become a fire hazard due to the temperatures which some servers can generate. Good rack dealers will help you decide which product is best for you. To see RackSolutions line of network cabinets and server cabinets click here.